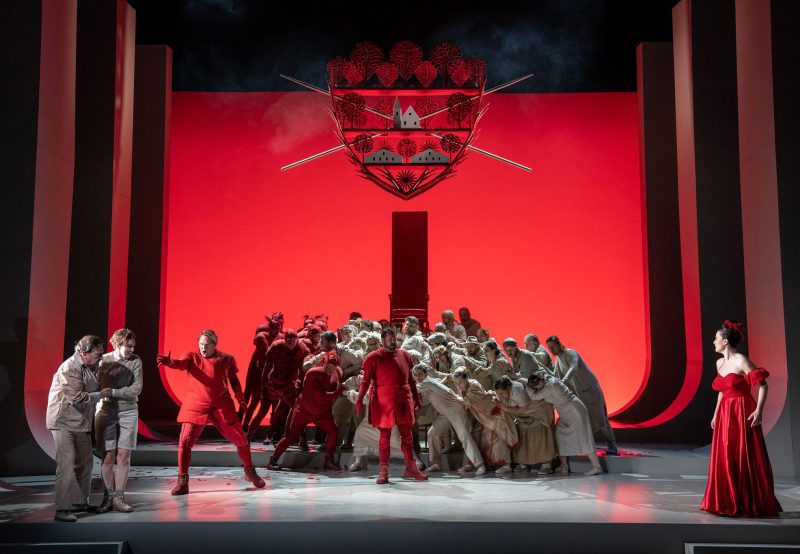 Rossini's final masterpiece – his largest and most lavish score – William Tell – performed for the first time in Ireland since the 1870s in a new production at the Gaiety Theatre Dublin
Irish National Opera

Rossini's William Tell is a celebration of community, family, country, nature, nationalism, bravery and beauty. Its musical treasures unfold on a vast scale over an extended evening. Dizzying vocal challenges, glorious uplifting choruses, infectious dances and the most famous overture of all.
A new production directed by Julien Chavaz, co-produced with Nouvel Opéra Fribourg. Performed in Dublin in 2022 and Fribourg in 2023. An inventive staging that involved extraordinary choreography from Nicole Morel and that placed the INO chorus and dancers at the heart of the action.
A large scale production with the Irish National Opera Orchestra. Sung in French. This production was videoed for webstream on www.operavision.eu
---
Gaiety Theatre Dublin 08, 09, 11, 12, 13 November 2022
---
Creative Team:
Director: Julien Chavaz
Set Designer: Jamie Vartan
Costume Designer: Severine Besson
Choreographer: Nicole Morel
Lighting Designer: Sinéad Wallace
Cast:
Guillaume Tell: Brett Polegato (08, 09, 11, 13 November)
Guillaume Tell: Gyula Nagy (12 November)
Arnold: Konu Kim (09, 11, 13 November)
Arnold: Jesús León (08, 12 November)
Mathilde: Máire Flavin (08, 12, 13 November)
Mathilde: Rachel Croash (09, 11 November)
Jemmy: Amy Ní Fhearraigh
Hedwig: Imelda Drumm
Melcthal / Walter: Lukas Jakobski
Gessler: David Ireland
Leuthold: Gyula Nagy (08, 09, 11, 13 November)
Leuthold: Owen Gilhooly-Miles (12 November)
Ruodi: Andrew Gavin
Rudolph: Patrick Hyland
Hunter: Matthew Mannion
Dancers: Stephanie Dufresne, Sophia Preidel, Laura Garcìa Aguilera, Jeanne Gumy
Irish National Opera Chorus and Orchestra
Conductor: Fergus Sheil
---
★★★★★ Thrilling musical energy – Opera Now

INO's artistic director Fergus Sheil, who masterminded the whole project, was in the pit and achieved outstanding playing from the company's orchestra - Opera Magazine

Fergus Sheil conducted the Irish National Opera Orchestra with wonderful energy and musical vision. He made the final chorus "Liberté, redescends des cieux" a spine-tingling moment bringing this opera to a fitting conclusion – Bachtrack.com

The orchestra conducted by INO artistic director Fergus Sheil delivered a tight, punchy performance with the difficult intricacies of Rossini's virtuosic writing for the woodwind and brass well executed. The famed overture was given a rousing rendition and Sheil's pacing of the music and coördination of the big ensemble numbers was exemplary – Journal of Music

The musical highlights abounded. The INO Orchestra under Fergus Sheil had a rich, warm sound in the Gaiety's welcoming acoustic. Special praise must go to the chorus. Of course, they belted out the crescendos with stunning gusto, but their movement, expressiveness, and the sheer joy they exuded were irresistible – Irish Examiner
https://www.irishnationalopera.ie/whats-on/current-upcoming-productions/william-tell