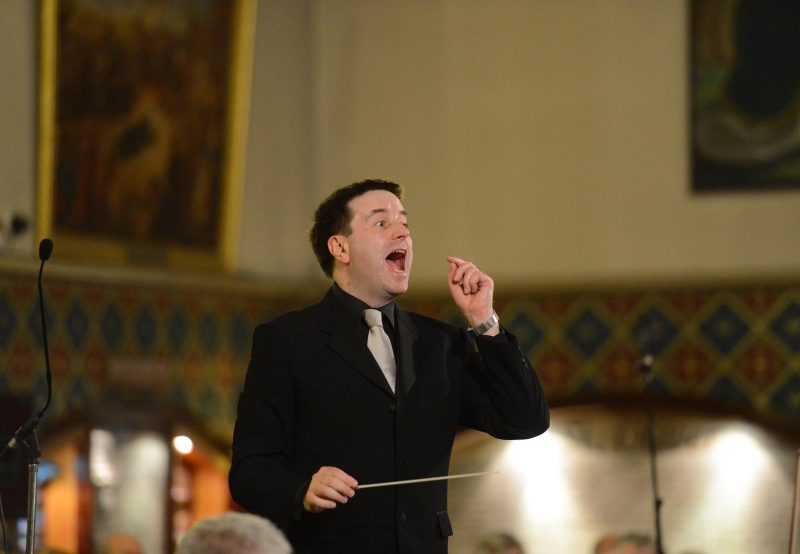 Fergus Sheil is a conductor and producer of opera based in Ireland. He is artistic director of Irish National Opera which he founded in 2018.
With Irish National Opera, Fergus is responsible for planning seven opera productions in the company's inaugural year; Gluck's Orfeo ed Euridice, Mozart's The Marriage of Figaro, Verdi's Aida, Offenbach's The Tales of Hoffmann, Bartók's Bluebeard's Castle, Thomas Adès' Powder Her Face as well as The Second Violinist by Donnacha Dennehy and Enda Walsh. These seven productions are performed in thirteen different venues in Ireland as well as appearing in London's Barbican Centre.
Before 2018, Fergus worked as Artistic Director of both Wide Open Opera (which he founded in 2012) and Opera Theatre Company (to which he was appointed in 2013). Both of these companies subsequently became part of Irish National Opera.
With Wide Open Opera, Fergus produced some of the most ambitious, high-profile and critically-acclaimed opera productions ever seen in Ireland. The company began in 2012 with a full-scale production of Wagner's Tristan und Isolde the first performance of this work in Ireland in 50 years. The production brought together key partners such as the Bord Gáis Energy Theatre, RTÉ National Symphony Orchestra and Dublin Theatre Festival. The opening night was webcast live on Platform Ireland attracting audiences in over 50 countries. The Irish Times awarded a rare five stars and hailed it as "a Tristan und Isolde to cherish"
"Fergus Sheil conducted as to the manor born, paced the music with sensitive care, secured near-perfect balances between voices and orchestra, and coaxed from the RTÉ NSO some of the finest playing ever heard from them in the opera pit." (The Irish Times)
With Wide Open Opera, Fergus subsequently produced a catalogue of contemporary operas by some of Ireland's leading composers. Gerald Barry's The Importance of Being Earnest (co-production with NI Opera), Raymond Deane's The Alma Fetish and Brian Irvine's Things We Throw Away and The Oldest Woman in Limerick. Two operas by Donnacha Dennehy and Enda Walsh – The Last Hotel (2015) and The Second Violinist (2017), both co-produced with Landmark Productions, enjoyed unprecedented national and international acclaim with performances at the Edinburgh International Festival, Dublin Theatre Festival, Galway International Arts Festival, Royal Opera House, Covent Garden, St Ann's Warehouse, New York and Les théâtres de la Ville, Luxembourg. The Last Hotel was filmed for Sky Arts in association with Brink Films and recorded for Cantaloupe Music.
Wide Open Opera was awarded the Irish Times Irish Theatre Awards Best Opera Production three years in a row, 2015 – 2017 for The Last Hotel, The Barber of Seville and The Second Violinist.
From 2013 – 2017 Fergus was Artistic Director of Opera Theatre Company, Ireland's national touring company. During this time with OTC, Fergus conducted national tours of Donizetti's The Elixir of Love (co-production with NI Opera) and Verdi's Rigoletto, as well as a large scale production of Mozart's Don Giovanni (in a new translation by Roddy Doyle) at the 2016 Dublin Theatre Festival, marking the 30th anniversary of the company's foundation. A highlight of Fergus' work with OTC was the 2017 concert performance and CD recording of Eithne by Robert O'Dwyer – the first opera written in the Irish language, composed in 1909, and unheard in performance for over 100 years. Fergus conducted a large cast and chorus of Irish singers with the RTÉ National Symphony Orchestra at Dublin's National Concert Hall.
"Sheil directed the orchestra with great expressiveness and drew superb performances from his singers." (Opera)
Also during his period with OTC the company presented Handel's Ariodante, Il trionfo del tempo e del disinganno and Acis and Galatea, Brecht / Weill: The Rise and Fall of the City of Mahagonny (with Rough Magic Theatre Company), Wolf Ferrari's Susanna's Secret, Poulenc's The Human Voice, Puccini's La bohème and a commission of Dubliners by Andrew Synnott and Arthur Riordan (in co-production with Wexford Festival Opera).
In 2011 Fergus produced and conducted the largest ever community opera project in Ireland for Carlow Local Authorities. Shelter Me From the Rain by Brian Irvine (music) and John McIlduff (text) was awarded the Allianz Business to Arts award for Best Use of Creativity in the Community.
As an orchestral conductor, Fergus has forged a strong relationship with the RTÉ National Symphony Orchestra. He has taken the RTÉ NSO on tour in Ireland with a range of symphonic repertoire such as Stravinsky's Firebird Suite, Beethoven's Symphony No 9 (Choral) and Mahler's Symphony No 2 (Resurrection). He has also involved the orchestra in community projects (Merge commission to mark the 600th anniversary of the town of Drogheda) and youth initiatives such as Rain Falling Up and Bluebottle by Brian Irvine (music), John McIlduff (text) and Matthew Robins (visuals) in collaboration with Dumbworld, Northern Ireland. These projects involved hundreds of school children performing at the Convention Centre Dublin, the Bord Gáis Energy Theatre and the Ulster Hall.
As well as his work with the RTÉ NSO, Fergus has conducted the Ulster Orchestra, the Irish Chamber Orchestra, the RTÉ Concert Orchestra, the Northern Sinfonia, the Royal Liverpool Philharmonic Orchestra and many others. Strongly committed to youth music, Fergus regularly conducts the Dublin Youth Orchestra and the Julianstown Youth Orchestra.
In the choral field Fergus collaborated with composer Arvo Pärt and the State Choir Latvija including the world première of Pärt's The Deer's Cry in 2008. He subsequently appeared with State Choir Latvija throughout Ireland with Pärt's music in 2010. In 2013 he toured Ireland with the BBC Singers with Seven Last Words from the Cross by James MacMillan. He has given concerts and workshops with choirs throughout Ireland and internationally.
As well as performances at home in Ireland, Fergus has also undertaken engagements in the USA, Canada, South Africa, Australia, UK, France, Netherlands, Denmark, Sweden, Malta and Estonia.