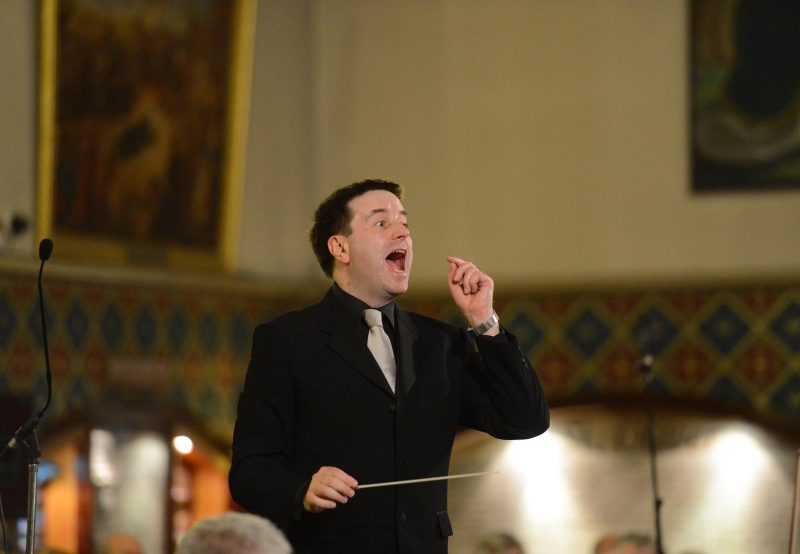 Fergus Sheil is a conductor and producer of opera based in Ireland. He is artistic director of Irish National Opera which he founded in 2018.
In the first four years of Irish National Opera (2018 to 2021), Fergus has overseen an unprecedented programme of work in live performances, online projects, audio recordings and filmed operas.
In live theatrical productions he has overseen operas by Vivaldi, Gluck, Mozart, Beethoven, Rossini, Verdi, Offenbach, Puccini, Humperdinck, Bartók, Maxwell Davies and Thomas Adès.
Notably these productions have included the first ever Vivaldi opera in Ireland as well as the Irish stage première of Bartók's Bluebeard's Castle and Strauss' Elektra – the latter in a major outdoor site-specific production at the 2021 Kilkenny Arts Festival.
Over four years since 2018, Fergus has overseen the performance of 27 new operas by Irish composers – seven major new works, mostly new commissions, as well as 20 short operas commissioned for film (20 Shots of Opera). He has produced new operas in theatres throughout Ireland as well as in London and Amsterdam, operas for film, commercial audio recording, outdoor projected opera projects as well as site-specific productions.
As conductor Fergus has led productions of Verdi's Aida, Rossini's La Cenerentola, Brian Irvine's Least Like The Other, Strauss' Elektra, Beethoven's Fidelio and 10 of the commissioned 20 Shots of Opera.
"Fergus Sheil conducted as to the manor born, paced the music with sensitive care, secured near-perfect balances between voices and orchestra, and coaxed from the RTÉ NSO some of the finest playing ever heard from them in the opera pit." (The Irish Times)
Before 2018, Fergus worked as Artistic Director of both Wide Open Opera (which he founded in 2012) and Opera Theatre Company (to which he was appointed in 2013). Both of these companies subsequently became part of Irish National Opera.
With Wide Open Opera, he gave seminal performances of Wagner's Tristan und Isolde (2012), John Adams' Nixon in China (2014) and Rossini's Il barbiere di Siviglia (2016) as well as new operas by Gerald Barry, Raymond Deane, Brian Irvine and Donnacha Dennehy. With Opera Theatre Company he produced touring productions of operas by Handel, Mozart, Donizetti, Bizet, Verdi, Poulenc, Wolf Ferrari and Puccini throughout Ireland as well as leading a performance and CD recording of Eithne by Robert O'Dwyer – the first ever Irish language opera from 1909.
"Sheil directed the orchestra with great expressiveness and drew superb performances from his singers." (Opera)
In the orchestral sphere Fergus has conducted many performances with the RTÉ National Symphony Orchestra, RTÉ Concert Orchestra, Irish Chamber Orchestra and Ulster Orchestra. He has a strong track record of educational projects, including major initiatives with massed choirs and the RTÉ National Symphony Orchestra involving works like Rain Falling Up and Bluebottle by Brian Irvine and John McIlduff, Beethoven's Symphony No 9 Choral and Mahler's Symphony No 2 Resurrection.
In 2011 Fergus produced and conducted the largest ever community opera project in Ireland for Carlow Local Authorities. Shelter Me From the Rain by Brian Irvine (music) and John McIlduff (text) was awarded the Allianz Business to Arts award for Best Use of Creativity in the Community.
As a choral conductor Fergus collaborated with composer Arvo Pärt and the State Choir Latvija including the world première of Pärt's The Deer's Cry in 2008. He subsequently appeared with State Choir Latvija throughout Ireland with Pärt's music in 2010. In 2013 he toured Ireland with the BBC Singers with Seven Last Words from the Cross by James MacMillan. He has given concerts and workshops with choirs throughout Ireland and internationally.
Fergus has a special interest in youth music. He founded and led the Julianstown Youth Orchestra for 10 years (2011−2021) and has conducted the Dublin Youth Orchestra since 2008. He has worked previously with the National Youth Orchestra of Ireland and the Australian Youth Orchestra.
As well as performances at home in Ireland, Fergus has also undertaken engagements in the USA, Canada, South Africa, Australia, UK, France, Netherlands, Denmark, Sweden, Malta and Estonia.