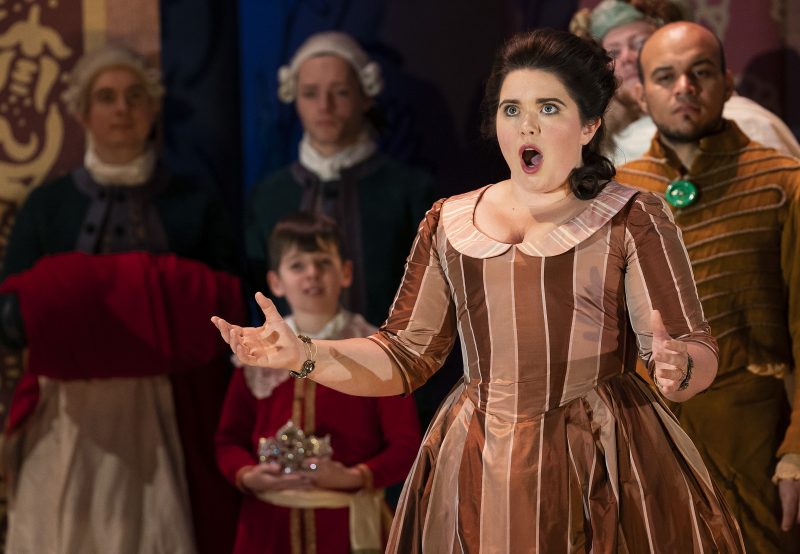 A magical fairy-tale presentation of Rossini's take on the story of Cinderella – La Cenerentola in a major new production in Dublin
Irish National Opera

A production built around the dazzling vocal talents of celebrity Irish mezzo soprano Tara Erraught in the title role. An inspirational new production conceived by director Orpha Phelan and designer Nicky Shaw set literally inside the pages of fairytale books.
A spectacular cast included Andrew Owens as Prince Ramiro with Ricardo Novaro as his valet Dandini. David Oštrek sung Alidoro (the equivalent of a fairy godmother). Cinderella's step-father Don Magnifico was Graeme Danby with the glamorous step-sisters Rachel Croash (Clorinda) and Niamh O'Sullivan (Tisbe).
---
Bord Gáis Energy Theatre 10, 12, 14, 16 Nov 2019
---
Creative Team:
Director: Orpha Phelan
Set and Costume Designer: Nicky Shaw
Lighting Designer: Matt Haskins
Choreographer: Muirne Bloomer
Cast:
Angelina / La Cenerentola: Tara Erraught
Ramiro: Andrew Owens
Dandini: Riccardo Novaro
Don Magnifico: Graeme Danby
Alidoro: David Oštrek
Clorinda: Rachel Croash
Tisbe: Niamh O'Sullivan
Irish National Opera Chorus
Irish National Opera Orchestra
Conductor: Fergus Sheil
---
"Conductor and artistic director Fergus Sheil was holding it all together in the pit. The orchestra of Irish National Opera made the music fizz with energy and excitement throughout bringing this opera to a triumphant close" – Bachtrack.com

"Fergus Sheil kept the energy levels high in the pit with the luxury of a 46 strong orchestra. At the final cadence, the audience rose to their feet in a standing ovation" – The Irish Examiner

"Fergus Sheil conducts the Irish National Opera Orchestra, harnessing the tumbling energy of Rossini's playful score, perfectly building the energy of the scurrying refrains" – The Irish Independent

"It's a total triumph for Fergus Sheil and Irish National Opera" – The Sunday Independent

"Fergus Sheil ensured cast chorus and orchestra remained on course throughout the performance. He brought out the sparkle and sense of fun in the overture and his choice of tempi seemed spot on. There was an excellent balance between the singers and the orchestra and I was particularly impressed with some of the exchanges between the singers and the woodwind. There was a sense of winning exhilaration in the ensemble numbers" – Seen and Heard International

"Music impressively realised by the Irish National Opera Orchestra, superbly conducted by INO artistic director, Fergus Sheil, beautifully releasing the boisterousness and tenderness of Rossini's lush score" – The Arts Review
---
https://www.irishnationalopera.ie/whats-on/current-upcoming-productions/cinderella