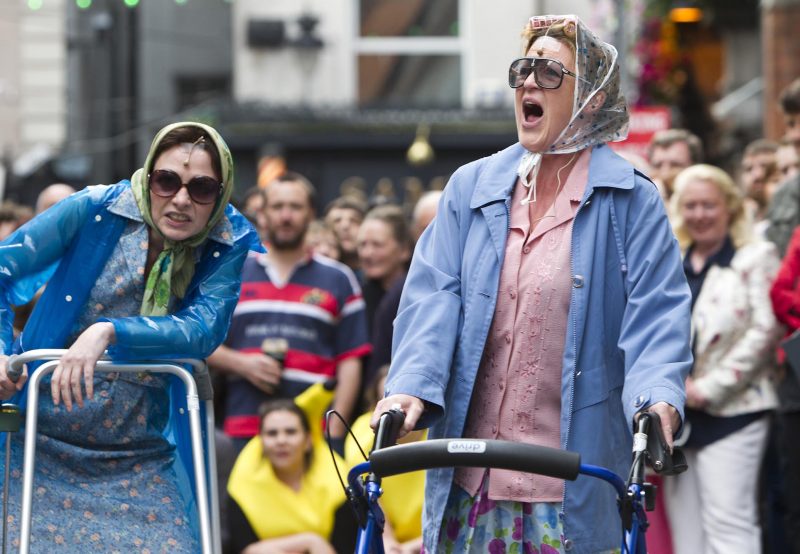 World première of five new specially commissioned short operas for performance in public spaces in Dublin
Wide Open Opera

Five short operas that capture forgotten 'thrown away' moments from the streets of Dublin.
Suck It In
I Just Sell My Bananas
Wake Up Son
Ironing Board Blues
Drive By Shooting
Composer Brian Irvine and librettist / director John McIlduff find true moments of exquisite beauty in what are mostly everyday events. A group of smokers take a break from work, a street vendor sells bananas, a father and son have a drink outside a pub, an iron and ironing board have been thrown away on a scrap heap, two elderly women are in hot pursuit of an unfaithful husband…
These operas were designed to be performed in a wide range of public places – streets, parks, train stations even the GPO in O'Connell St, Dublin. Each of the operas as sung live by the singers accompanied by a pre-recorded soundtrack from the RTÉ Concert Orchestra.
All of the operas were recorded for online release on Wide Open Opera's website. Things We Throw Away earned Brian Irvine a nomination for the 2015 British Composers Awards in the Stage Works category.
---
4 July 2014 – various locations Dublin
5 July 2014 – various locations Dublin
14 March 2015 – various locations Belfast
10 April 2015 – various locations Dublin
11 April 2015 – various locations Dublin
---
Creative Team:
Composer: Brian Irvine
Writer & Director: John McIlduff
Costume Design: Clodagh Deegan
Cast:
Soprano: Sylvia O'Brien
Soprano: Doreen Curran
Baritone: Brendan Collins
Soprano: Sarah Shine
Soprano: Rachel Croash
Mezzo soprano: Maria Kelly
Actor: Dan Reardon
Puppeteer: Niamh Lalwor
Specially Assembled Choir
Pre-recorded soundtrack from: RTÉ Concert Orchestra
Conductor: Fergus Sheil
---
'Others stopped and within a moment their faces lit up with surprise and delight. Phones were out, arms stretched to their limits, vantage points sought. Children seemed to be enchanted at the oddness of it all, seeing it as a kind of busking they'd never come across before. And the fact there were bananas there for the asking added to the attraction.' - The Irish Times
---