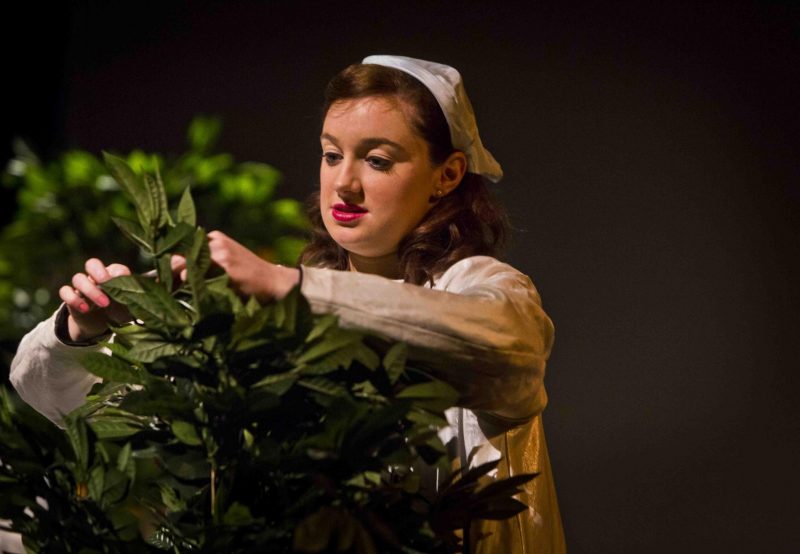 The Oldest Woman in Limerick
Specially commissioned opera by Brian Irvine and John McIlduff for Limerick's 2014 City of Culture Programme with Lime Tree Theatre, Limerick
Wide Open Opera

Part of the "Made in Limerick" strand of the 2014 Limerick City of Culture Programme, The Oldest Woman in Limerick was a documentary-style opera involving a flexible cast of five female singers performing multiple roles, a young girl, a community chorus and a specially assembled 11-piece instrumental ensemble of top professional musicians.
The opera was in two parts, firstly telling the story of how the creative team searched high and low for who was the oldest woman in Limerick. Secondly it told the story of the 104-year old Sr Anthony, a retired nun who had a very colourful life, much of it based in Rome. She was a sports enthusiast, a keen Camogie player and somebody who had lived through two world wars.
The opera was an affectionate elevation of one life that perhaps never expected to have received such musical and dramatic attention, but through this process it allowed participants and the audience to reflect on many aspects of their own existence.
---
Lime Tree Theatre, Limerick 12 – 13 December 2014
---
Creative Team:
Composer: Brian Irvine
Librettist & Director: John McIlduff
Designer / Lighting Designer: Ciaran O'Melia
Costume Designer: Clodagh Deegan
Cast:
Mezzo: Sharon Carty
Soprano: Rachel Croash
Soprano: Emma Nash
Soprano: Sylvia O'Brien
Soprano: Sarah Shine
Wide Open Opera Chorus and Ensemble
Conductor: Killian Farrell