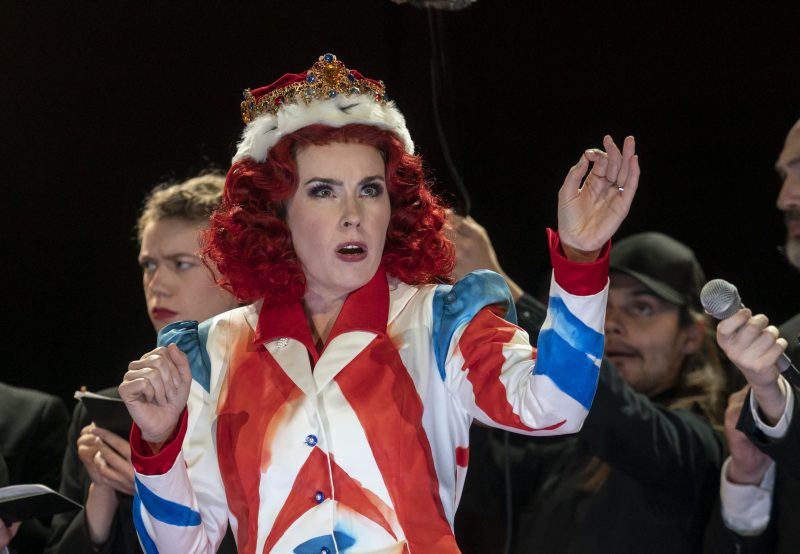 The Irish première of Donizetti's Tudor masterpiece – Maria Stuarda – in a new production featuring celebrated Irish singers Tara Erraught and Anna Devin as Mary Queen of Scots and Queen Elizabeth I.
Irish National Opera

The tragic fate, and the unyielding strength of Mary Queen of Scots provided powerful inspiration for Donizetti. He created one of the most powerful characters of the bel canto period. From the moment we first meet Mary in her prison to her final moments on the scaffold, Tara Erraught inhabited this role with vocal prowess and dramatic conviction.
A new production directed by Tom Creed and designed by Katie Davenport with an outstanding cast also including Filipino-American tenor Arthur Espirtu, Italian baritone Giorgio Caoduro, English bass Callum Thorpe and Irish mezzo Gemma Ní Bhriain..
A full scale production involving the Irish National Opera Chorus and Orchestra. Sung in Italian. Performances in Gaiety theatre, Dublin, Cork Opera House, National Opera House, Wexford, and a concert performance at University Concert Hall Limerick. This production was filmed and streamed on www.operavision.eu
---
Gaiety Theatre Dublin 05, 07, 09, 11 June 2022
Cork Opera House 15, 16 June 2022
National Opera House, Wexford 19 June 2022
University Concert Hall, Limerick 22 June 2022
---
Creative Team:
Director: Tom Creed
Set & Costume Designer: Katie Davenport
Lighting Designer: Sinéad McKenna
Cast:
Maria Stuarda: Tara Erraught
Elisabetta: Anna Devin (05, 09, 11, 15, 19, 22 June)
Elisabetta: Amy Ní Fhearraigh (07, 16 June)
Anna: Gemma Ní Bhriain
Leicester: Arthur Espirtu
Cecil: Giorgio Caoduro
Talbot: Callum Thorpe
Irish National Opera Chorus and Orchestra
Conductor: Fergus Sheil
---
All these voices, and the orchestra, sound big in Dublin's Gaiety Theatre – the size of an intimate Italian regional theatre – but brashness doesn't go amiss, least of all in the rollicking but slightly comic Overture, which Fergus Sheil conducts, like all else, with tremendous panache… I certainly don't remember the chorus before Mary's execution having such an impact, either – Artsdesk.com

Irish National Opera Orchestra under the baton of its artistic director Fergus Sheil produced a free-flowing rendition, full of life and rhythmic vitality – Operawire

The company's artistic director, Fergus Sheil, was in the pit and drew splendid sounds from his excellent orchestra and his six singers – Opera Magazine

Under conductor Sheil, the Irish National Opera Orchestra provided a nimble and well-balanced support for the singers, and the sound of the chorus was full and solid – Journal of Music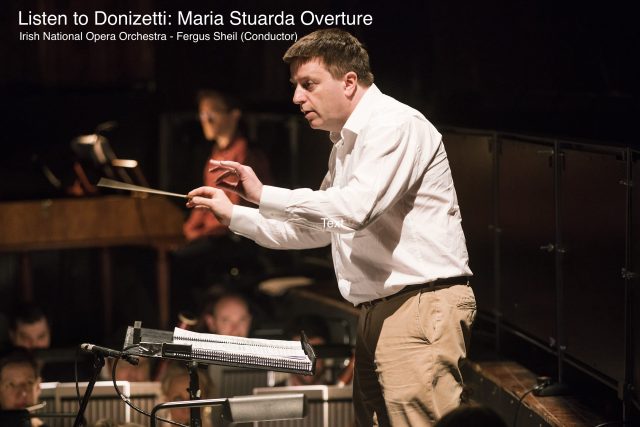 https://www.irishnationalopera.ie/whats-on/current-upcoming-productions/maria-stuarda