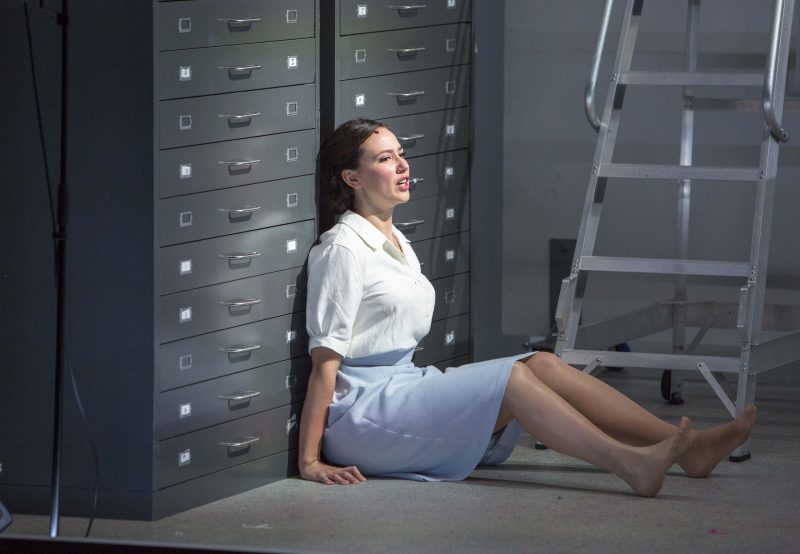 UK première of the critically-acclaimed 2019 opera by Brian Irvine and Netia Jones at the Linbury Theatre at the Royal Opera House London.
Irish National Opera

An explosive and thought-provoking work of experimental music theatre. It traces events in the life of Rosemary, eldest daughter of Joe and Rose Kennedy, sister of JFK, using heavily redacted materials from the archives, and only recently pieced together by biographers and academic.
The events in Rosemary's difficult life leading up to her disastrous lobotomy at the age of 23 by the "kings of lobotomy," Walter Freeman and James Watts, create an exploration of definitions of intelligence, expectations of gender, medical showmanship, patriarchy, the impact of the media and the demands of this extraordinary family. Rosemary's tragic life constitutes a portrait of America in the 1940s and 1950s. It is a picture that is as relevant today as it was then.
These four performances in London in 2023 played to capacity houses and generated an astonishing critical reaction:
The Stage ★★★★★ "boldness and integrity"
The Arts Desk ★★★★★ "powerful, unforgettable"
The Observer ★★★★★ "kaleidoscopic score"
Mail on Sunday ★★★★★ "extraordinarily thought-provoking"
Music OMH ★★★★★ "Triumphant… unforgettable"
Broadway World UK ★★★★★ "near overwhelming sensory environment"
Culture Whisper ★★★★★ "outstanding piece of theatre"
The Telegraph ★★★★ "radical reimagining of opera"
The Times ★★★★ "fast-paced, brutal, surreal and acerbic"
Financial Times ★★★★ "harrowing in its intensity"
The Guardian ★★★★ "powerful"
The i ★★★★ "a humanity that refuses to be denied"
---
Linbury Theatre, Royal Opera House, London 15, 17, 18, 19 January 2023
---
Creative Team:
Composer: Brian Irvine
Director, Designer, Video Designer: Netia Jones
Lighting Designer: Sinéad Wallace
Choreographer: Muirne Bloomer
Sound Designer: David Sheppard
Cast:
Soprano: Amy Ní Fhearraigh
Actor: Stephanie Dufresne
Actor: Ronan Leahy
Voiceover: Aoife Spillane-Hinks
Orchestra of Irish National Opera
Conductors: Fergus Sheil & Brian Irvine
---
★★★★★ Brian Irvine's score, played with tireless energy by 12 instrumentalists under versatile Fergus Sheil, INO's music director, ebbs and flows between hysteria, satirical popular music and a calmer, more elegiac voice - The Arts Desk

★★★★★ The angular orchestral textures come to life under Fergus Sheil's experienced baton. The playing is beyond reproach - Music OMH

★★★★★ The company's founding artistic director and conductor, Fergus Sheil, negotiated Irvine's kaleidoscopic score with ease; now madcap brassy toccata, now sinewy, strange meanderings, pairs of saxophones and clarinets adding expressive colours - The Observer

★★★★ Musical standards under conductor Fergus Sheil are high and the small cast of four, led by singer Amy Ní Fhearraigh is excellent. Everything drives the performance forward with concentration at peak level - The Financial Times
---