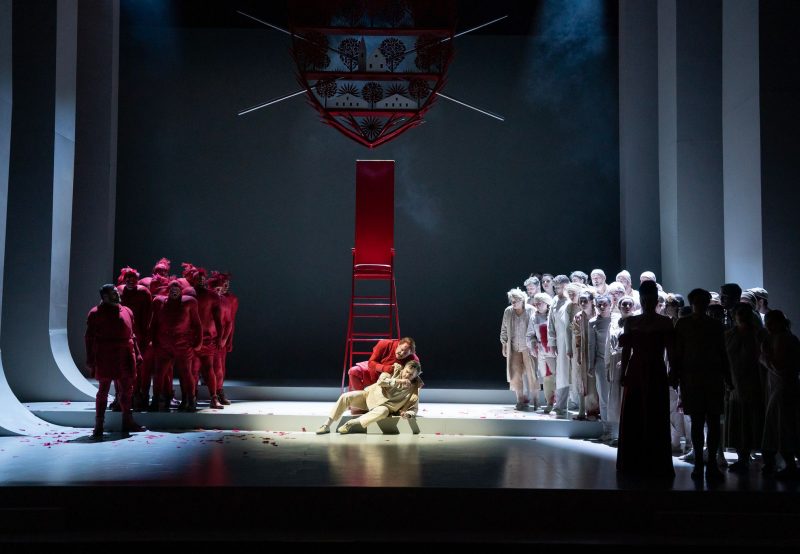 Following outstanding critical acclaim in Dublin, Rossini's William Tell is performed in Switzerland as part of a co-production between Irish National Opera and Nouvel Opéra Fribourg. Five performances in Dec 2023 and Jan 2024
Irish National Opera

Rossini's William Tell is a celebration of community, family, country, nature, nationalism, bravery and beauty. Its musical treasures unfold on a vast scale over an extended evening. Dizzying vocal challenges, glorious uplifting choruses, infectious dances and the most famous overture of all.
For these performances in 2023/2024, a new cast has been assembled with the original creative team reuniting. The chorus of Nouvel Opéra Friboug is joined by the Orchestre de chambre fribourgeois. Sung in French.
---
Théâtre Equilibre, Fribourg 29,31 December 2023, 03, 05, 07 January 2024
---
Creative Team:
Director: Julien Chavaz
Set Designer: Jamie Vartan
Costume Designer: Severine Besson
Choreographer: Nicole Morel
Lighting Designer: Sinéad Wallace
Cast:
Guillaume Tell: Edwin Fardini
Arnold: Jihoon Son
Mathilde: Rachel Croash
Jemmy: Roxane Choux (29 December, 03, 05, 07 January)
Jemmy: Iris Keller (31 December)
Hedwig: Eva Kroon
Melcthal / Walter: Benjamin Schilperoort
Gessler: Graeme Danby
Leuthold: Gyula Nagy
Ruodi: Kiup Lee
Rudolph: Germain Bardot
Dancers: Maria Demandt, Stephanie Dufresne, Laura Garcìa Aguilera, Jeanne Gumy
Chœur du NOF, Orchestre de chambre fribourgeois
Conductor: Fergus Sheil
Photos and Video Excerpts below from Irish National Opera production in 2022