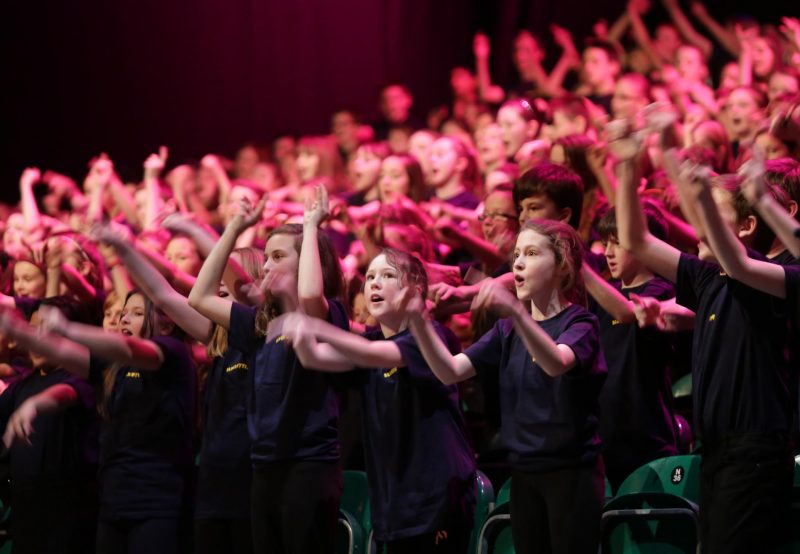 World première of new multi-media oratorio for 500 singing children, narrator, live animation and symphony orchestra
Wide Open Music

Nancy loved the noise of her neighbourhood – the trains, the planes, the televisions, the dogs barking… all of this filled her with life and energy. Most of all she loved her Dad singing…. pop songs, love songs, opera arias, rock'n'roll… he sang all the time. Until one day he stopped.
Mum said that Dad was afraid of swallowing a bluebottle. Nancy was broken-hearted. So off she went on a rampage to exterminate every bluebottle, fly, wasp, mosquito, daddy-long-legs – every type of flying insect had to be obliterated. As Nancy struggles to change the world around her, she eventually realises that the strongest thing she can do is to change herself…..
"Bluebottle is a joyful avalanche of orchestra, animation, narration and 500 singing children – a roller coasting rollicking ride that tells the uplifting story of one little girl's quest to get her dad to sing again. Bluebottle bursts at the seams with hope, adventure, celebration and big unapologetic tunes. Watch out for the mystic, wise and all knowing hipster – Riche Golden, the menacing ballet of fireflies, the Jobar Electronic Bug Zapper JB5000 and of course one particularly huge gooey, sucker footed Bluebottle" – Composer Brian Irvine
Bluebottle was commissioned by Wicklow Co Council for Music Generation Wicklow and presented by Wide Open Music in association with the RTÉ National Symphony Orchestra. It was subsequently performed in Belfast and Derry with the Ulster Orchestra
---
Bord Gáis Energy Theatre, Dublin 23 November 2014
Ulster Hall, Belfast 15 April 2015
St Columb's Hall, Derry 22 October 2015
---
Creative Team:
Composer: Brian Irvine
Writer: John McIlduff
Animation: Matthew Robins
Narrator: Aoife Duffin
Live animation puppeteer: Niamh Lawlor
Lighting Designer: Mark Galione
Specially assembled choir of 500 children from Co Wicklow
RTÉ National Symphony Orchestra
Conductor: Fergus Sheil
---